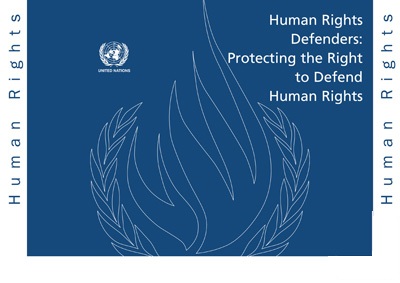 The International Covenant on Civil and Political Rights article 16: Everyone has the Right to be recognized as a legal person, the juridical personality, that artificial being that is treated more or less like a human being. You have that right to enter into that capacity or not, the choice is/was yours to make.

Yes that is correct you do have a choice, according to the international law that is respected which we as human beings, men and women can draw our rights and freedoms from, these laws teach us that we have an option, we have a right to be designated or recognized as something other then a human being that is our choice.

Here in Canada Her Majesty, Queen of Canada, Defender of the faith has many defenders of her own. All around us there is a commercial system in operation which is in service to Her Majesty. We see Lawyers, Judges, Mayors, Municipalities, Police officers, Tax officers, Peace officers, Government ministers, the list goes on and on all these classes of persons are set up to run and protect Her Majesty's Realm here in Canada.

If you have arrived at this page I will assume that you are aware of the basic fact that you as a human being have been placed into servitude to Her Majesty.Canada's domestic laws have rendered human beings subjects and servants of Her Majesty through the juridical personality. In doing so Canada has removed from you the fundamental rights and freedoms that are internationally and universally recognized , without legal right may I add.


---
A Defender of Human Rights and Fundamental Freedoms


A human being who has awaken to the fact that there are universal and internationally recognized rights and freedoms that are not being respected here in Canada is one who can think about becoming a human rights defender. A human being who has recognized the fact that his or her own rights and freedoms had been hidden from them but now have come to understand what is transpiring, again this is someone who can think about becoming a defender.

The rights and freedoms that were not taught to us and subsequently that were removed from us due to our ignorance are of the uttermost importance. These rights and freedoms open up to the human being a road or pathway not many are walking upon. To understand and claim ones freedom from servitude and bondage is not something many are aware is possible. A human rights defender should be aware of the rights and freedoms that are his or hers to operate under thereby being able to call upon them to defend the human being.

The expression of the internationally recognized rights and freedoms which leads us as human beings out of the commercial bondage to HER Majesty are contained within certain domestic laws along with the international covenants. It is imperative that someone thinking about become a human rights defender have a strong understanding and knowledge about these domestic legislative laws and these international laws, for it is with these weapons that you will be going to battle on behalf of your loved ones and all human beings.

We all need to defend human rights and respect one another.



---
Declaration on the Right and Responsibility to Promote and Protect Universally Recognized Human Rights and Fundamental Freedoms.

Article 1- Everyone has the right, individually and in association with others to promote and to strive for the protection and realization of human rights and fundamental freedoms at the national and international level.

Just like everyone has the RIGHT to be recognized as a person before law , everyone also has a RIGHT but no obligation to Promote and Protect Human rights and fundamental freedoms. You see it is a choice you are given in both contexts. Above in article 16 of the international covenant you as a human being were granted a right you could express and use, that right was you could enter into recognition as a juridical person. Now here again you are offered, granted a right you can use and express. You have the right to promote and protect human rights and freedoms.

I can choose to give up my fundamental rights and freedoms by entering into recognition as the juridical person, the Canadian citizen who is subject and servant of Her Majesty or I can refuse that designation and stand as a human being promoting liberty to my fellow human beings from this commercial system from being a servant of Her Majesty.

---
A human being that is caught up in this Sovereign Monarch structure where they have been designated a subject and servant of Her Majesty, is considered under the obligation to perform duties and service for Her Majesty such as paying taxes. There are many duties and obligations that Her Majesty requires of her Subjects and many of them go against your rights and freedoms as a Human being. Instead of presenting you a choice this governing power on our land automatically classified you as a juridical person, the Canadian Citizen who is the servant of Her Majesty and bound to obey her. In doing so they striped you of your human right and freedom not to be held in servitude or slavery.

The International Covenant on Civil and Political Rights article 8 states that no one shall be held in servitude or slavery. That is a right and freedom you have. Her Majesty through her laws and words can not hold you in Servitude.

In the universal declaration of human rights article 21 it states the following. Everyone has the right to partake in the government of his country either directly or through a freely chosen representative. This declaration is what laid the foundation for the subsequent international covenants that came into existence.

In this declaration you see again that everyone has a RIGHT not an obligation to partake of the government of his country. It is a right you as human being can express but are not obligated. The men who drew up this declaration wanted to preserve the freedom of choice concerning your submission to the government bodies. We can only imagine the number of reasons why these men felt the need to preserve a human beings choice, remember that these laws came into existence on the heel or towards the end of world war 2.

When we see the freedom and right expressed in the international covenant that no one can be held in servitude this is a fulfillment of what was declared in the Universal Declaration on Human Rights. Her Majesty can not hold you in servitude to her commercial system, this Monarch system.

---
If you are serious about exercising your human rights and fundamental freedoms or in defending, promoting and protecting human rights here in Canada or any Monarch Country there is a foundation to start from. Remember that they have designated you that juridical person, you must first and foremost effectively cast away that assumption and that designation. This is a foundational step to exercising your human rights and freedoms.

It is essential that you reclaim those fundamental rights and freedoms that were yours prior to you having been designated a Canadian Citizen that Juridical person who is the subject of Her Majesty.

This action of reclaiming your rights is necessary and must and I stress the term must be done correctly. If you have watched any of my videos you must have heard me say that for any claim to work, to have legal or lawful power the one claiming must claim from something recognized.

Using the justification that is provided to human beings through the domestic and international laws, we can assert our fundamental rights and freedoms thereby removing the burden of the bondage we have been placed under. The author would like to state that while we use the weapons available to free our humanity this is in no way a global approval of actions taken by the international bodies or the laws created.

Anyone who has proceeded to investigate the role of a human rights defender will quickly realize that this is a tough place to stand. While here in Canada we may not be dealing with armed men, denying human rights is just as prevalent if not more so here in Canada. We deal with a political structure and a legal structure of words and law both of which remove our fundamental rights and freedoms in secret. It is hidden darkness. On top of that the average Canadian citizen, well the human being behind that role they have no idea what is transpiring and a lot of times they have no desire to do anything about it, only to continue on their way. Our fellow men and women lack the understanding of the real life consequences that this has placed upon their life. Part of protecting, promoting and defending human rights and freedoms in Canada is trying to convince Canadians they have human rights and freedoms.

---
The rights and freedoms that are expressed in the international covenants are obligations that rest upon the state Canada. You can not hold someone to an obligation if you do not know that they owe you something, so to speak. The job ahead of Human rights defender here in Canada is to promote and teach their fellow human beings about what has transpired against them here in this country. Her Majesty failed to expose these rights and freedoms, she also failed to implement teaching structure that would help everyone of us know what OUR rights and fundamental freedoms apart from domestic laws. This system enforces her domestic laws in Canada yet runs and hides from the obligations that are present due to these covenants.



---
Added January 11 2012

When you decide that you will take up the cause of human rights and freedoms on a personal level you have the backing of domestic and international laws protecting you. You can operate as a human being alone or you can form a group together and stand for human rights and freedoms. Learning the domestic articles of law and the international articles of law are a necessary step but it is only a part of the whole journey. If I know all the instructions on how to make a cheese cake but I have never made a cheese cake before, I am sure it will not turn out great the first time. The more times I make a cheese cake the better it will get until I reach a level where it is easy for me to make a cheese cake. We have operated as subjects and servants under this system for many years. The bondage of this system impacts our lives everyday from paying taxes upon the food we buy, being taxed off our pay checks even taxed for the homes in which we live. The system has laid a claim against you and upon you. Now that you have awaken to that fact, it is necessary to take time to understand and take stock of how this system has shaped and formed you.

From the way we think to the things we desire this system has had a tremendous influence upon us, more then most of us are willing to accept. As we learn to reclaim our humanity we must do so in patience and with wisdom. I would not attempted to engage or construct something that could harm me unless I was well prepared for the task at hand. For example would you try to give your mom open heart surgery, of course not for most of us do not have the skills to do such a task however we can learn the skills through study and patience to arrive at that point. Your human rights and freedoms are of a like nature learn, understand and apply to arrive at your goal.


To defend human rights and freedoms you need to know just how to do this. The key word here is defend. You can know about human rights and freedoms, you can even walk in them or exercise them, but when you defend them this is another position. Here in Canada this is played out within the courts of Canada. There is the expression of common law and international law in operation in the courts system and it is through that branch of justice that you enter into a position of defense or offense concerning Human rights and fundamental freedoms. There is much injustice around the foundation of Canada is built upon servitude and bondage. These words are harsh however they reflect the true essence and condition of the Canadian citizen. There are those who sit in the seat of the government that do not want you to exercise your fundamental rights and freedoms as a human being for it profits the monarch nothing if you walk in that freedom.


more to come......
---